Corporate Profile
Ransavi Construction (Pvt) Ltd is owned and managed by a team of well experienced professional engineers dealing with all kinds of contracts and it was established in 2012. we are flexible, innovative, responsive and entrepreneurial organization. We have completed many projects during the last few years. Since we made proper quality inspection procedures, the company has been attained and maintained quality standards and performance ever.
Ransavi Construction (Pvt) Ltd was established under the Act No 07 of 2007 (Registration no- PV 89971) in Democratic Socialist Republic of Sri Lanka and it has registered with CIDA as a C3 category construction firm (Registration no – C-12409) and also a member of NCASL.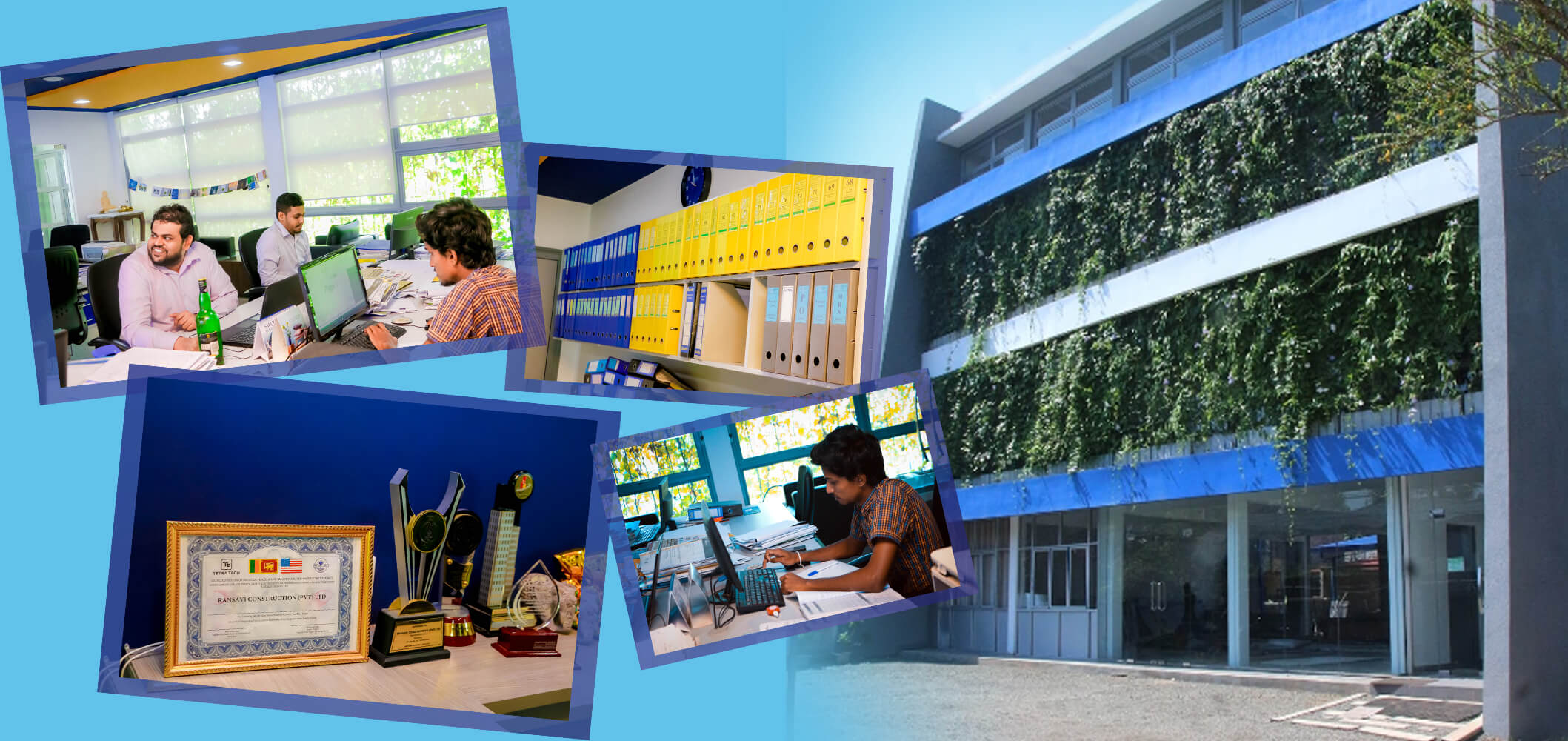 We are a family-owned company committed to becoming the contractor of choice, pursuing excellence through dedication, experience, and disciplined employees with an ongoing passion for delivering quality, timely and profitable projects.

Our mission is to be a dynamic team, providing the highest quality construction services available.

Quality: Never compromise on quality
Integrity: Strive for continual improvement in operational systems to achieve greater coherence
Reliability: Earn reliability by matching our services with customers' expectations every time
Prosperity: Hassan & Hussain Enterprises believes in success for everyone; be it employer or workers
Chairman's Message

Our company, Ransavi Construction (Pvt) Ltd, is one of the leading building construction company in Sri Lanka. We steered our modern vision in diversified spheres and specialized in creating architectural building designs and fully undertake the development of high-quality residential, commercial, industrial, and governmental constructions.
Our company has set a clear strategic direction developed by professionally qualified, competent and experienced corporate planners. The company continues performing well in line with its expectations despite the current challenging economic environment. We will continue to build and maintain our position as a strong construction company in Sri Lanka. In the last few years, we have managed to strengthen our reserves, increased our turnover, and improved our capital position.
One of the greatest assets of Ransavi Construction (Pvt) Ltd is its high-profile Human Resources armed with Chartered Engineers, Engineers, Quantity Surveyors & Accountants in the construction field. In comparison with the market standards, each professional is highly capable of contributing 'Real-Value' to the organization since every professional is highly-qualified, competent, and well experienced in the construction field. We have been received a few awards for our construction works.
To achieve our vision, we have to build, maintain, protect and enhance our reputation as the most ethical, efficient, and trusted company among our employees, clients, customers, suppliers as well as the community. Led by the Management, our robust approach to delivered them back in the highest quality on time under the limit of the respective budgets.
Ransavi Construction (Pvt) Ltd operates under sound Corporate Governance and carries out all its business dealings with public honest, transparent, and ethical manner. That is why our customer base is expanding daily, and our businesses are booming.
Our Team

Our philosophy is to provide a positive and collaborative work place where management is geared around active support of teams on the ground with a key focus on efficient productivity. Our team all enjoy the benefits of long term career planning and guidance.
---
Team Members
H.I.S Fonseka                                                 Chairman/Managing Director                          23 years of Experience
Senior Quantity Surveyor
IQSSL membership No RP-1301
P.D.Chaminda                                                          General Manager                                      15 years of Experience
B.Sc.Eng(Hon), AMIE(SL)
W.R.L.Silva                                                        Construction Manager                                   15 years of Experience
NCT (CIVIL)
W.Y.S.Fernando                                                              Engineer                                               03 years of Experience
B.Sc.Eng(Hon), AMIE(SL)
S.G.D.B. Prasanna                                                          Engineer                                               09years of Experience
HNDE(CIVIL), AMIIE(SL)
G.M.Sanjaya Gihan                                                 Quantity Surveyor                                       10 years of Experience
NDQS-VTA
BTech QS-UNIVOTECH
W.A.C.Fernando                                             Senior Technical Officer                                   14 years of Experience
NCT (CIVIL)
I.G.A.S.Weerasinghe                                      Senior Technical Officer                                   11 years of Experience
ICTAD-CIVIL
W.A.Chamara lal                                                     Accountant                                               28 years of Experience
AAT-SL
Membership and Accreditations

RANSAVI CONSTRUCTION (pvt) LTD, has incorporate in the Democratic Socialist Republic of Sri Lanka under the company Act No 07 of 2007 incorporation No PV 89971 and also a member of NCASL & CIDA(ICTAD), bearing C3 (CIDA registration No C-12409)
---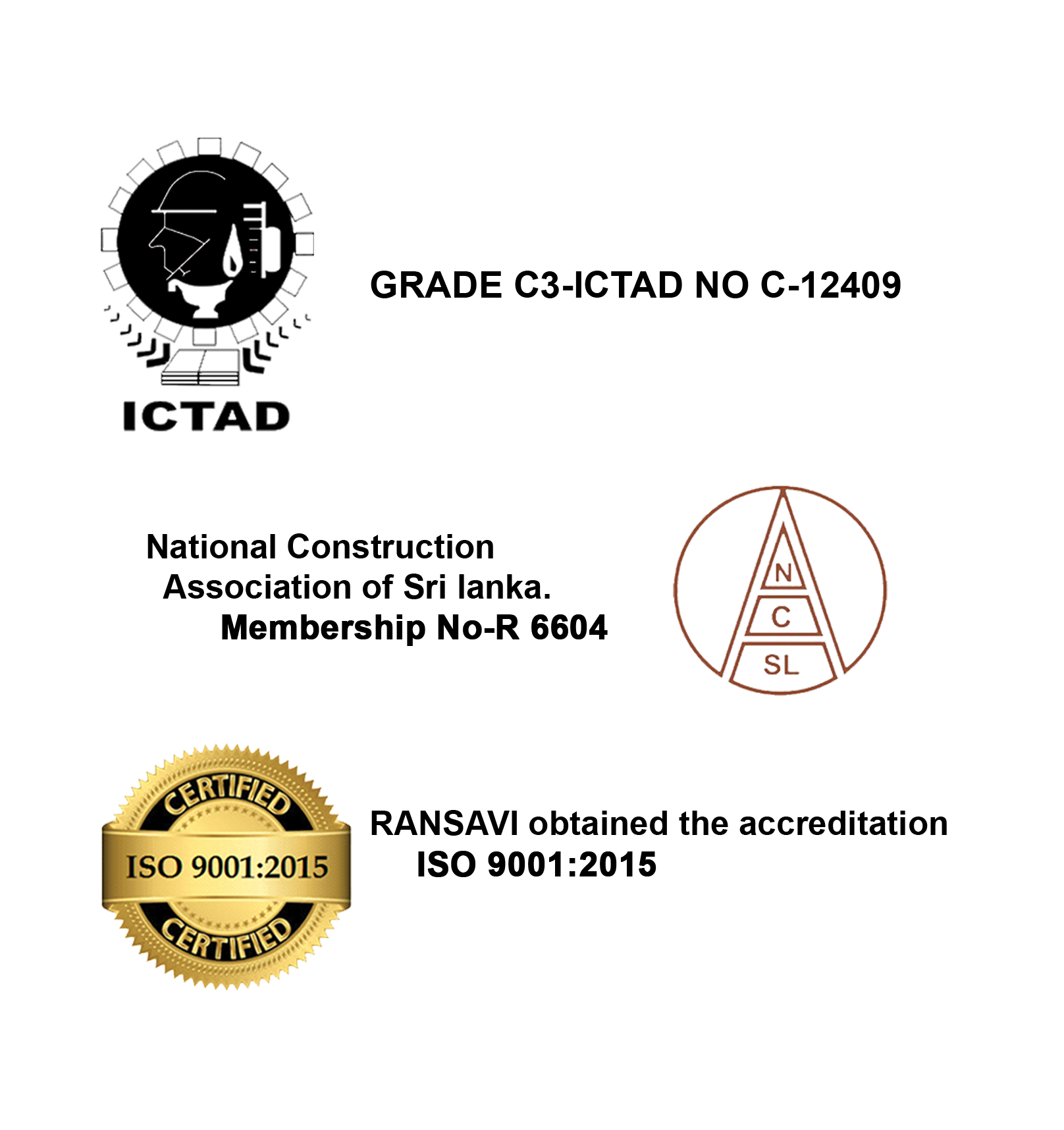 Corporate Social Responsibility

Ransavi Construction (Pvt) Ltd is committed to corporate social responsibility, particularly in the communities in which it works and takes up a range of opportunities to engage with local people and charitable causes. Corporate Social Responsibility isn't merely about money; it's about sharing skills and expertise, spreading the site safety and environmental awareness messages, and companies doing their bit when it comes to supporting local causes.
We focus our responsibility into three key areas.
People / Community / Environment
People
To continue to provide the best possible service to our customers, we are focused on attracting, developing, supporting, and retaining the very best people across of our business. We are dedicated to improving the well-being of all individuals within the business by:
Maintaining and constantly improving safe working standards
Supporting the rights of all workers
Strengthening working relationships within community groups
Supporting apprenticeships, work experience and trainee programs that lead to employment and encourage the ongoing development of construction skills
Promoting entry to the industry; encouraging career development and progression to leadership roles
Contributing to the SL economy by developing local trades and creating permanent employment
Community
Ransavi Construction (Pvt) Ltd is committed to the communities in which it works and takes up a range of opportunities to engage with local people. We are dedicated to providing continuous value to our local communities by:
Respecting and supporting the local neighborhood
Providing clear communication channels
Minimizing inconvenience and disruption to individuals and businesses
Nurturing local employment and use of local trades
Encouraging participation and community activities
Environment
We are committed to minimizing the environmental impact of our work, reducing waste, and investing in new 'green' technologies. Ransavi Construction (Pvt) Ltd supports the sustainability agenda by:
Making environmental concerns central to all our processes
Minimizing the consumption of resources
Reducing carbon emissions
Cutting down waste generation
Using efficient technologies and sustainable materials
Conserving energy and water
Ensuring all site operations follow and exceed best practice guidelines
Certifications and Affiliation

Ransavi Construction (Pvt)Ltd has won numerous awards in a variety of categories measuring workforce excellence. Whether it is accolades for business management, operational excellence, corporate governance, construction performance, engineering and technology, innovative techniques, or financial performance, we understand that the tribute for these is shared between our clients and our dedicated employees. Together, we are reinventing business and achieving greater excellence.